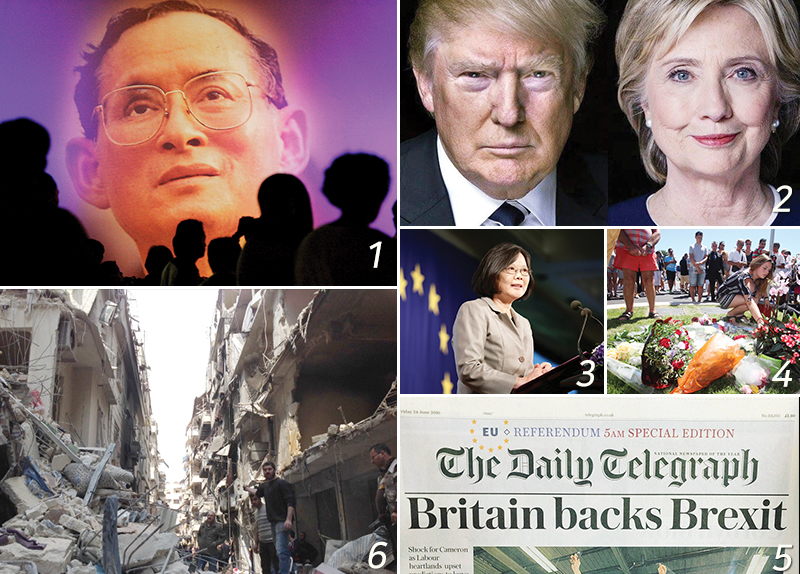 1. Thailand's beloved King Bhumibol Adulyadej on Oct. 13 died at age 88. He had ruled for more than 70 years, the longest by a Thai monarch.
2. Donald Trump made history with his shocking upset of Hillary Clinton for the U.S. presidency on Nov. 8. Though Clinton received more popular votes, Trump earned a majority of electoral votes to win his nation's top position.
3. Taiwan elected its first female and single president, Tsai Ing-wen, on Jan. 16. She made more news for her view of Taiwan being an independent country rather than part of China.
4. Flowers are placed in memory of the 86 victims of the July 14 Nice terrorist attack. Mohamed Lahouaiej-Bouhlel, a Tunisian resident of France, drove a bus into a crowd of people celebrating Bastille Day. A combined 434 people were also injured.
5. The civil war in Syria raged on in 2016 with no end in sight, though Syrian and Russian forces on Dec. 12 took over Aleppo, Syria's biggest city.
6. On June 23, people in Britain voted to leave the European Union (EU) in an action called "Brexit." This action rattled the global economy and the very foundation of the EU.