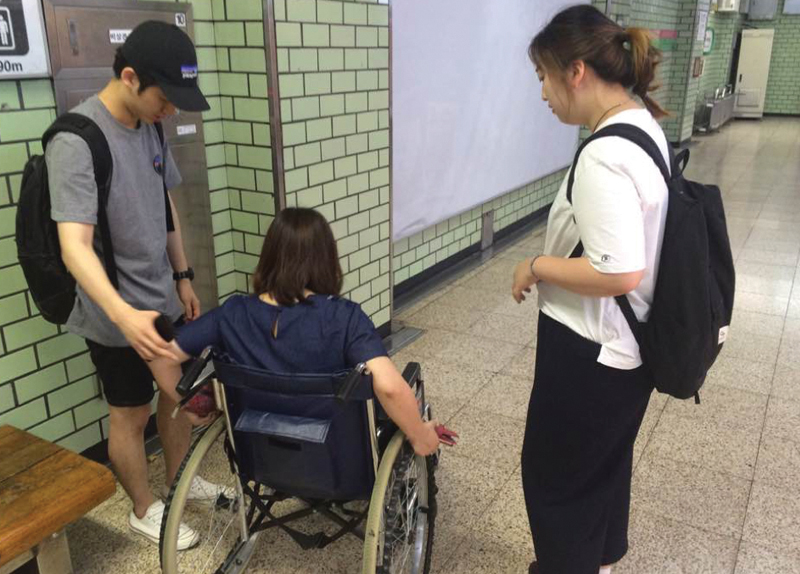 What is accessibility? Combining the words "access" and "ability," it refers to allowing people with disabilities or special needs access to their surroundings and the devices we use in everyday life. In other words, it helps to make daily living for disabled people easier and more comfortable. Most of us have seen wheelchair ramps or wheelchair-accessible restrooms in buildings and on the street, but many just pass by without giving it much thought. However, for people living with disabilities, moving about the city for school or work can be quite the challenge.
Over one billion people on Earth experience some type of disability - roughly 15 percent of the entire population. According to a Korea Institute for Health and Social Affairs (KIHASA) report in 2012, over 2.7 million people in Korea live with a disability. South Korea actually has strong laws that require buildings and public facilities to maintain strict accessibility guidelines. Any passenger who takes the subway can see this through an ample amount of accessibility systems and signage. Also, every April 20 is officially recognized as Disabled Person's Day, and Korea has passed laws such as the Welfare of Persons with Disabilities Act in 1989.
Still, many areas of Korea don't have the tools in place to make life easier for those with disabilities. For example, simply getting on a crowded bus in Seoul remains one of the more difficult feats for a disabled person. Korea's disabled faces rampant discrimination and inequality in the workforce. Out of Korea's 1.21 million companies, only 5.4 percent of them hired at least one disabled person. For the person living with a disability, they just want to be treated like everyone else and live normally as a member of society. Despite South Korea's attempt and commitment to increase the public awareness of disability, most of society continues to turn a blind eye on the subject.
This requires a paradigm shift in the way society thinks and acts towards disability. Government laws, regulations, and infrastructure only goes so far when providing Korea's disabled people the accessibility they need. The public's attitude towards discussing and dealing with disability issues must also change. Muui is a non-profit organization dedicated to doing just that. Founded in 2015, their goal is to "change today's conversation about disability." Based on the Sino-Korean word mu-ui, which means "without meaning," they "envision a world in which an individual's disability does not define them." In today's world of YouTube and widespread video blogging, Muui created a video series called "Seoul, Take the Wheel." Here, creative director Kim Kun-ho and a group of local residents tour some of Seoul's hottest tourist spots. But instead of shying away from filming their journey in a wheelchair, they bring it wide into the open. Without any pressure or self-consciousness, the host and his friends freely roam about the city and share about their adventure, just like any other person on the street. Traveling from Gwanghwamun Square to Myeongdong, the wheelchair-traveling filmmakers highlight what they like about each location. Muui ends each segment with disability information about each site they visit - showing everything from sidewalk accessibility, restroom locations, and even the smoothness of the roads they travel on.
Disability has typically been represented and shared with an air of seriousness and sorrow, but projects like "Seoul, Take the Wheel" on YouTube show that people with disabilities know how to have fun, too - just like everyone else.