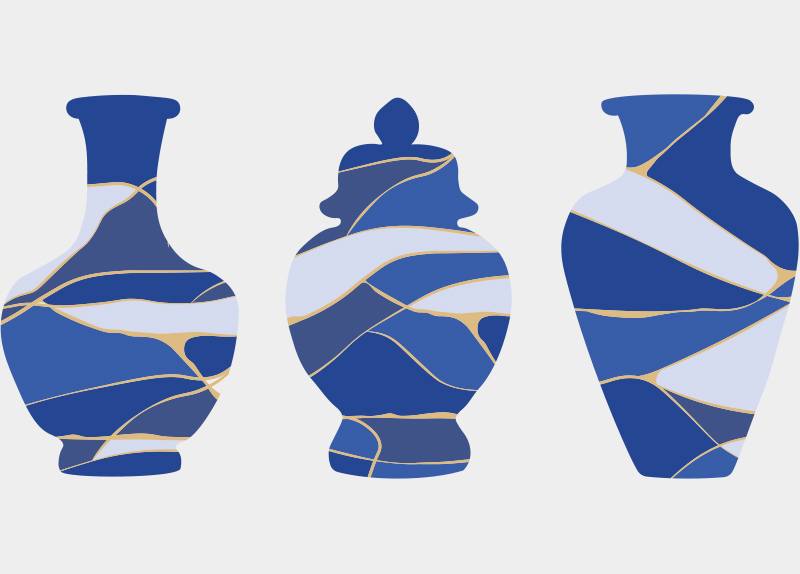 "Kintsugi," or "kintsukuroi," meaning "golden joinery," is the centuries-old Japanese tradition of fixing broken pottery to create a piece of art. Instead of gluing the pieces together with a translucent or disguised adhesive, the kintsugi technique uses a tree sap lacquer dusted with powdered gold, silver, or platinum. The result is a one-of-a-kind treasure, with beautiful seams of rich color running along the ceramic.
Historians believe that the art of kintsugi dates back to the late 15th century. According to legend, the Japanese shogun Ashikaga Yoshimasa sent a broken tea bowl back to China for repair. Upon receiving the patched bowl, he was displeased with the metal staples that held the pieces in place and ordered his craftsmen to find an aesthetically pleasing restoration method. By the 17th century, kintsugi was a popular practice in Japan, and some profited by deliberately breaking ceramics to repair and sell them at higher costs.
In addition to being pleasing to the eye, kintsugi also represented the Japanese philosophy of "wabi-sabi," which seeks to find beauty in flaws and imperfections.
The three kintsugi styles most commonly practiced today are the crack, piece method, and joint-call. Objects repaired using the "crack" technique are simply glued together with lacquer. This is the defining form of kintsugi that most people recognize today. In the "piece method," objects are restored with several replacement fragments made entirely of epoxy resin. Finally, the "joint-call" technique uses similarly-shaped pieces from another broken item. It combines two different ceramics to create one unique product.
Today, the tradition of kintsugi is kept alive by artisans in Japan and abroad. Contemporary artists incorporate the practice into their own ceramic art, while some have made their own creative twists on the tradition by replacing the pottery with different mediums and canvases.