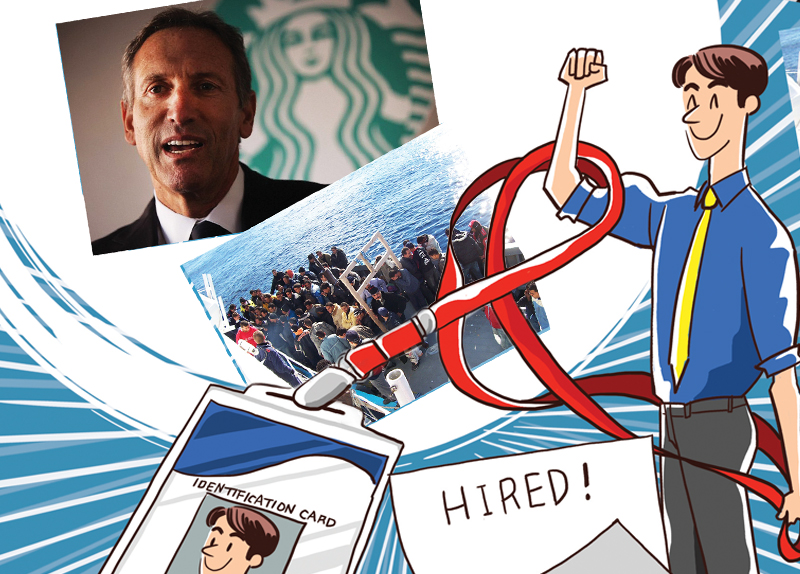 Two days after U.S. President Donald Trump's executive order banning entry of refugees from Muslim countries, the founder and head of the world's largest coffee shop chain vowed to hire over the next five years 10,000 refugees from 75 countries his franchise operates in.
In a message outgoing Starbucks CEO Harold Schultz sent to his employees on Jan. 29, he said the company will "neither stand by, nor stay silent, as the uncertainty around the new administration's actions grows with each passing day." With more than 25,000 locations in over 75 countries, Starbucks is the world's largest coffeehouse company.
The move came as leaders from leading tech companies like Apple, Facebook, Google, and Microsoft also expressed dismay over Trump's executive order.
"There are more than 65 million citizens of the world recognized as refugees by the United Nations, and we are developing plans to hire 10,000 of them over five years in the 75 countries of the world where Starbucks does business," Schultz said. Efforts to help refugees will begin in the U.S., where the priority will be on hiring those who have served with U.S. troops as interpreters and support personnel "in the various countries where our military has asked for such support."
Schultz also pledged to support Dreamers, or the 750,000 immigrants given work permits and temporary residence under former President Barack Obama's Deferred Action for Childhood Arrivals Program, implemented in 2012. Starbucks is reimbursing these immigrants the biennial fee they must pay to stay in the program.
Schultz said the company considers the "nearly three quarters of a million hardworking people" as "partners" and expressed his support "to help them realize their own American dream." He also guaranteed support for Mexican customers, partners, and families, saying Starbucks employs "over 7,000 Mexican partners who proudly wear the green apron," adding that "bridges, not walls, with Mexico" should be built.
The coffee giant's decision was met with both support and criticism, with some netizens spreading the hashtag "#BoycottStarbucks" on Twitter and Facebook, saying they will no longer buy coffee and food from Starbucks.
Starbucks, however, remains firm amid the backlash and condemnation. At the end of his letter, Schultz said his company will "stay true to our values" and take actions "squarely within our ability to control," adding, "This is our focus: providing a third place of respite for those around the world who seek it, daily."