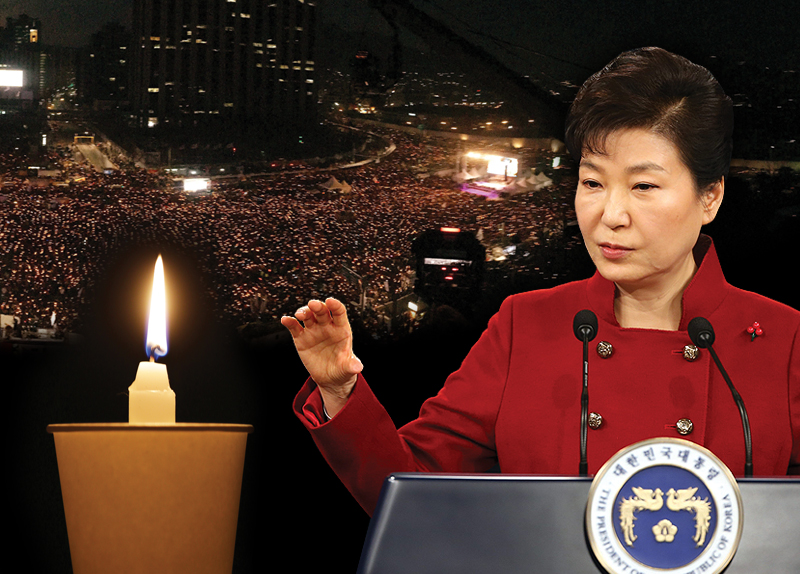 The Constitutional Court on March 10 announced its final decision to remove President Park Geun-hye from her position in a unanimous 8-0 verdict. Park is the country's first head of state to be forced from office in this manner.
Acting Chief Justice Lee Jung-mi, who announced the historic decision shortly after 11 a.m., said Park "betrayed the people's trust and that is a grave violation from the perspective of protecting the Constitution." It is the president's duty to "exert her powers in respect of the Constitution," Lee added, and the construct of all duties and responsibilities "must be transparently revealed for public evaluation."
The justice also said Park refused to "cooperate with investigations to lay bare the truth." Since the passing of the impeachment motion by the National Assembly on Dec. 9 last year, the nation has seen the largest and most extensive probe in Korea's history.
On March 6, the special prosecution team concluded its 70-day investigation and confirmed Park's implication in bribery and abuse of power, as well as her ties with her longtime confidante, Choi Soon-sil. The probe concluded that Park and Choi schemed to accept bribes from large corporations.
Both pro- and anti-Park protesters gathered at Gwanghwamun Square in downtown Seoul to watch the verdict's announcement on a huge television screen. Tens of thousands of anti-Park protesters welcomed the ruling with celebration, while those supporting her expressed anger.
Korea's first female president not only lost her position but also privileges given to presidents after they leave office such as pension, free medical care and state support for commemorative projects. She also forfeited criminal immunity, paving the way for her prosecution on criminal charges. Park was also the first president whose father had also served as chief executive.
Park, 65, who had 11 months left in her term, refused to issue a public message after the announcement. She left the Blue House two days later and moved to her private residence in the Samseong-dong neighborhood of southern Seoul, where she was welcomed by her supporters who waved flags as they waited.
Park later broke her silence and said in a statement, "Although it will take time, I believe the truth will certainly come out."
Per the Constitution, Korea has 60 days to elect a new president. Acting president Hwang Kyo-ahn will assume the role of head of state as the country prepares for a snap election that must be held by May 9.
constitutional 헌법의 / remove 제거하다 / unanimous 만장일치의 / verdict 평결 / violation 위반, 침해 / transparently 투명하게, 솔직하게 / investigation 수사, 조사 / probe (철저한) 조사 / prosecution 기소, 소추 / bribery 뇌물 / scheme 책략을 꾸미다, 생각하다 / protester 시위자 / privilege 특권 / refuse 거절하다 / residence 거주지 / acting 대행의 / head of state 국가수반 / snap 성급한, 불시의