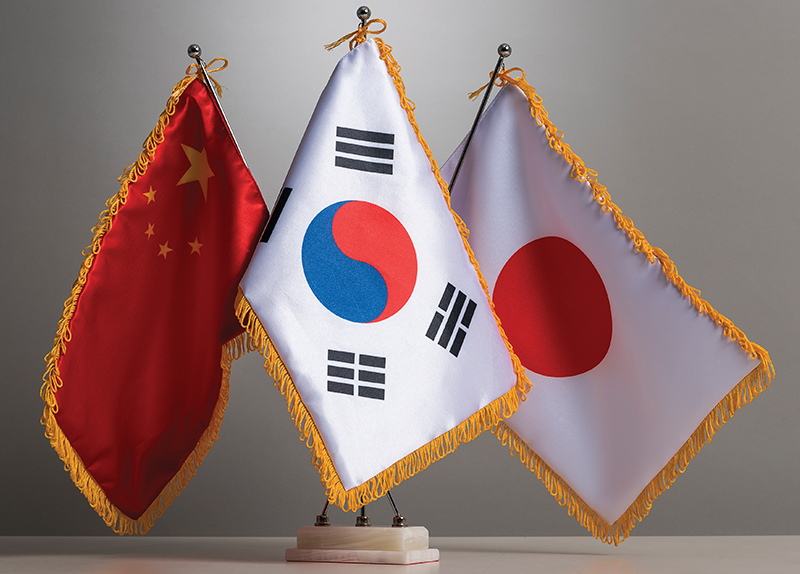 For the seventh time in recent history, leaders of East Asia's three biggest economies met to discuss regional issues. The summit was held in Tokyo on May 9. Japanese Prime Minister Shinzo Abe hosted South Korean President Moon Jae-in and Chinese Premier Li Keqiang.
The summit dealt with regional issues, including cultural exchanges, the environment, and the promotion of free trade. Abe aimed for an open-ended agenda, saying that he expected to talk about "all aspects of the future development of relations between Japan and China, and Japan and South Korea."North Korea was also high on the agenda.
The meeting was a chance for Japan to take a more active role in the advancing diplomacy with North Korea. In February, North and South Korean athletes participated together in the Winter Olympics. In March, North Korean leader Kim Jong-un made a rare visit to China. In April, Kim held an unprecedented summit with the South Korean president. He was the first North Korean leader to set foot in South Korea since the Korean War broke out in 1950. Kim has also made plans to meet with U.S. President Donald Trump, although a date and location have not yet been set.
For South Korea, the summit was an opportunity for Moon to share the results of his recent meeting with Kim, and also to discuss plans for peace on the Korean Peninsula. During the inter-Korean summit, the two made plans to end North Korea's nuclear weapons program and to sign an official peace treaty.
For Japan, the summit was a chance for Abe to follow up on a recent visit to the U.S. where he discussed North Korea with Trump, and to seek denuclearization of the North. It was also an opportunity for Abe to build support at home. His public approval rating has dropped due to political scandals.
The first trilateral summit held between the three countries was in Japan in 2008, although the meetings were first proposed by South Korea in 2004. The host country rotated over the next four years until it was suspended in 2012 due to difficulties between China and Japan. It was revived for a sixth event in November 2015, with another two-year break before reconvening for 2018.
The summit talks usually focus on maintaining trilateral relations, the regional economy, and disaster relief. North Korea's nuclear program has also been a recurring topic.