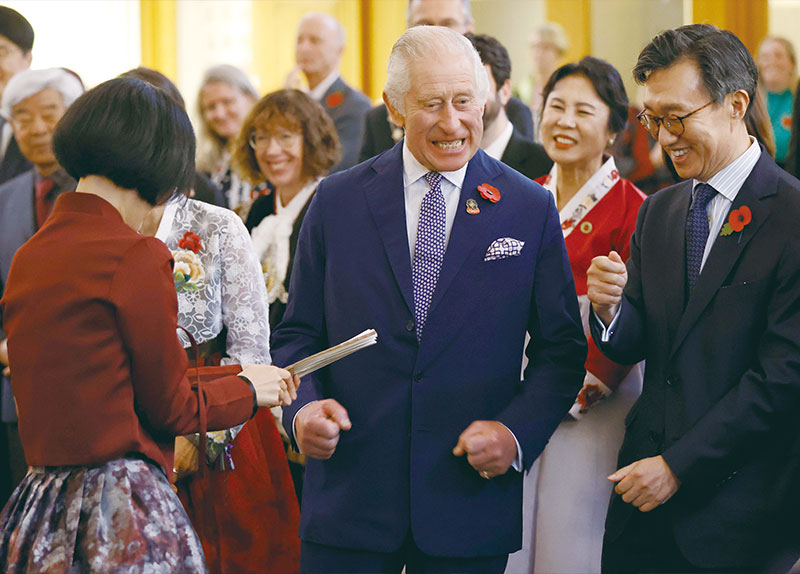 King Charles explored Korean culture in New Malden, South West London, on Nov. 8. Home to around 20,000 South Koreans, this area boasts one of the largest Korean communities in Europe and is appropriately nicknamed Koreatown. The monarch engaged with the community and conversed with Korean Ambassador Yoon Yeo-cheol.
K-pop greeted the king when he arrived at the town's Methodist church, where members of the Korean community gathered for the royal visit. He met with representatives of the Korean Residents Society, the Korean Restaurant and Supermarkets Association, and local faith leaders. During his visit, King Charles asked questions about Korea, listened to the London Korean Hummingbirds perform a traditional song, and took a particular interest in one man's escape from North Korea, pausing his rounds to listen to his story.
He also received early birthday gifts, including a kimchi recipe book and some kimchi wrapped in silk. Upon receiving the kimchi, the king jokingly asked, "Will it blow my head off?" Presumably concerned about its spice level. King Charles then tried some traditional Korean desserts, including bingsoo, at a nearby Cake & Bingsoo cafe and expressed an interest in K-pop during his chats with other customers.
The king's visit came ahead of South Korean President Yoon Suk-yeol's state visit from Nov. 20 to 23, emphasizing the importance of U.K.-Korea relations post-Brexit and showcasing the growing influence of Korean culture worldwide. Charles' visit signifies the role of cultural diplomacy in fostering international understanding and connection between countries.