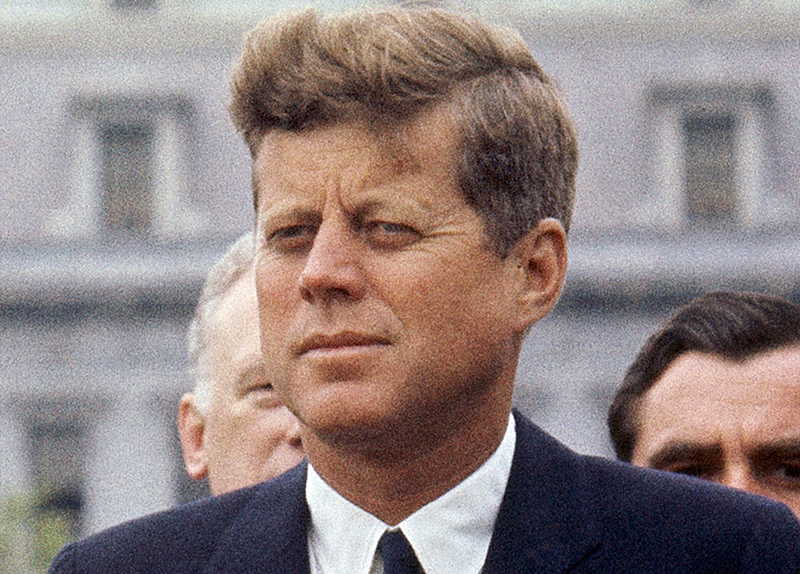 John F. Kennedy was born in 1917. Both his grandfathers were politicians, while his father worked under President Franklin D. Roosevelt. After graduating from Harvard University, Kennedy joined the Navy to fight in World War II, which later earned him a medal for heroism.
Kennedy then began work as a politician. After several years as a lawmaker, Kennedy ran for president in 1960. Already popular then, Kennedy beat his Republican opponent, Richard Nixon. At his inaugural address, Kennedy spoke some of his most recognizable lines, "Ask not what your country can do for you. Ask what you can do for your country."
Kennedy took over the presidency during the Cold War, a time of high tension between the United States and the Soviet Union. Swearing to stop the spread of communism, Kennedy involved his country in various conflicts around the world. Kennedy faced the most challenging test of his presidency in 1962, later called the Cuban Missile Crisis. The U.S. discovered that the Soviet Union was constructing a nuclear missile base in Cuba, just 723 km from Florida. For 13 days, America prepared itself for the possibility of nuclear war. Thankfully, Kennedy was able to get the Russians to agree to remove the missiles.
Domestically, Kennedy worked to lower unemployment, protect civil rights, and provide the elderly with access to medical care. Unfortunately, Kennedy was assassinated in 1963, an event that shocked America. The nation mourned the death of this beloved and iconic leader.