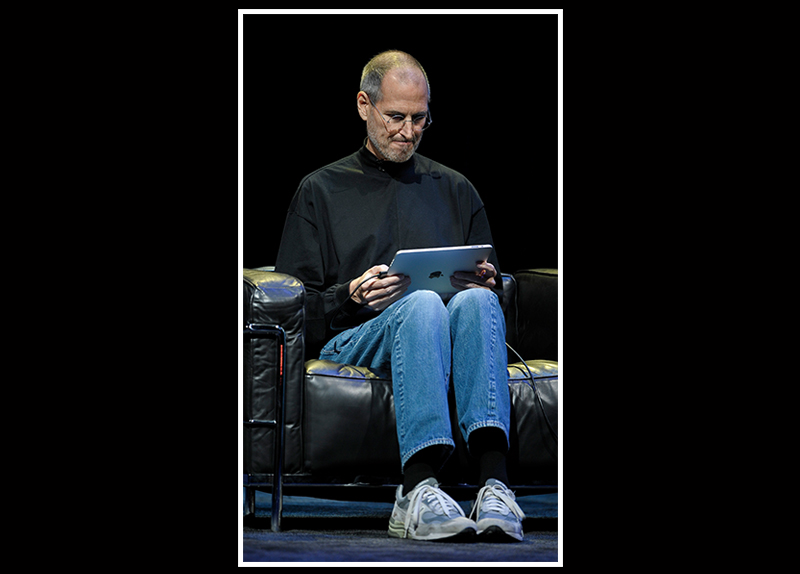 Steve Jobs was born in 1955 in San Francisco, and his biological parents gave him up for adoption. He was adopted by his new parents, and he shared hobbies with his father. Their favorite hobby was taking radios and other electronics, pulling them apart, and putting them back together. At school, Jobs met a boy named Steve Wozniak. They also shared an interest in electronics and became good friends.
After finishing high school, Jobs went to college but soon dropped out because he found it too boring. He reconnected with Wozniak, who said he wanted his own personal computer. Wozniak invented his own computer. Jobs was impressed and proposed that they start their own company. In 1976, when Jobs was just 21, they started the Apple Computer company in Jobs' garage.
The company grew very quickly, but its third computer, the Apple III was not very successful. Soon, Apple faced a lot of competition from another computer company called IBM. IBM's PC was very successful, and Apple began to decline. Jobs even resigned from the company as CEO.
In 1997, Jobs returned to Apple. The company wasn't doing well and needed new ideas to bring the company back to life. Jobs expanded Apple's products and introduced iTunes and the iPod, which were both highly successful. Apple's image changed drastically, and in 2007, it released the iPhone, which changed the world forever. People saw Jobs as one of the world's greatest innovators.
Sadly, Jobs died of pancreatic cancer in 2011. But, from a small garage came a company that changed the world forever. And we have the mighty Steve Jobs to thank for that.