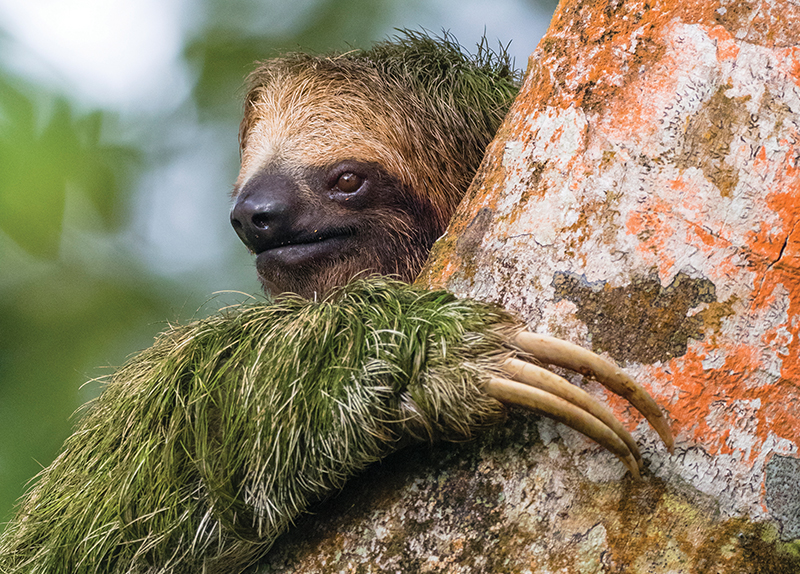 Sloths are arboreal mammals found in the rainforest canopies of Central and South America. As can be inferred from their name, sloths are very inactive creatures. They sleep up to 15 hours a day and even when they are awake, they barely move at all. Yet, in spite of their lethargic nature, sloths have been around for tens of millions of years ? indicating that there must be more to these "lazy" tree-dwellers than meets the eye.
Sloths lead a rather peculiar lifestyle, spending roughly 90 percent of their lives hanging motionless or slowly moving between tree branches by using their long, hook-like claws. They do everything from eating, sleeping, and resting to mating and giving birth in the trees. And they only come down to the ground about once per week to urinate and defecate on the forest floor. This tree-based life cycle is how sloths are able to avoid predators. Indeed, everything about sloth physiology is designed so that the mammals don't have to risk leaving the safety of their "nest."
As folivores, sloths depend primarily on a diet of leaves, so food is always within easy reach. However, as their main food source provides very little energy or nutrients and does not digest easily, they have evolved to have large, slow-acting, multi-chambered stomachs that can break down the tough fibrous leaves. Their stomachs are constantly full because the digestive process is extremely slow, taking days or even weeks to complete. And since sloths have very slow metabolisms to match this, their energy requirements are much lower and they require less food than most mammals.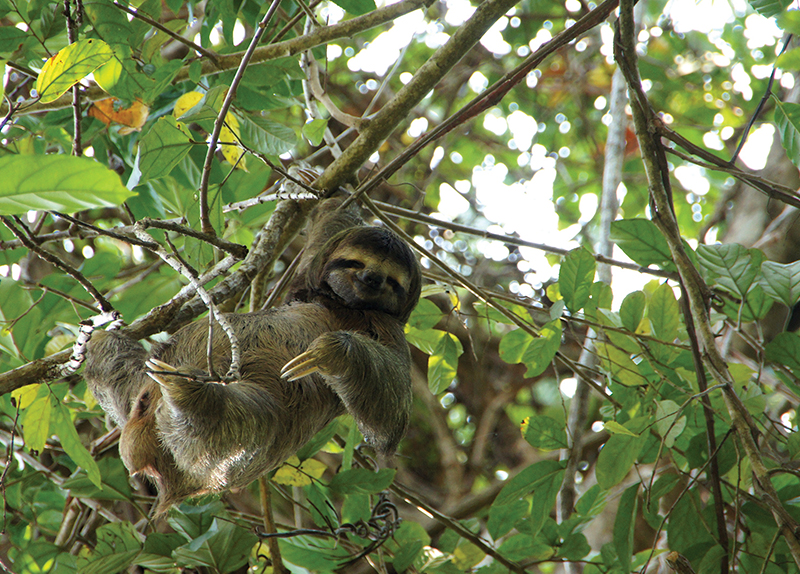 Sloths only move when it is absolutely necessary and even then, their every movement is done very slowly. On average, a sloth generally travels no more than 38 m in a single day. Sources place their average speed at anywhere between 2 to 4 m per minute and, on the rare occasion where they're on the ground, they are said to crawl at a glacial pace of about 30 cm per minute. They are so slow that sloths, specifically the three-toed sloth species, have been given the title of the slowest mammal on Earth. While one would think that being slow would be detrimental to a species' survival, in the sloth's case, it is beneficial in that it allows it to conserve energy and avoid detection from visual predators that notice movement.
In addition to these traits, sloths have sacrificed their ability to control their body temperature in order to further save energy. But, because they live in a hot and humid environment, sloths don't really need the advantages that thermoregulation would give to most mammals. Of course, this does mean that they can only live in the tropics.
Sloths also have a special, symbiotic relationship with the green algae and fungi that grow on their hairs. They not only provide camouflage by giving the sloth's fur a green tinge but also provide another food source. When leaves are scarce, sloths can lick their fur and get some additional nutrition.
본 기획물은 정부광고 수수료로 조성된 언론진흥기금의 지원을 받았습니다.