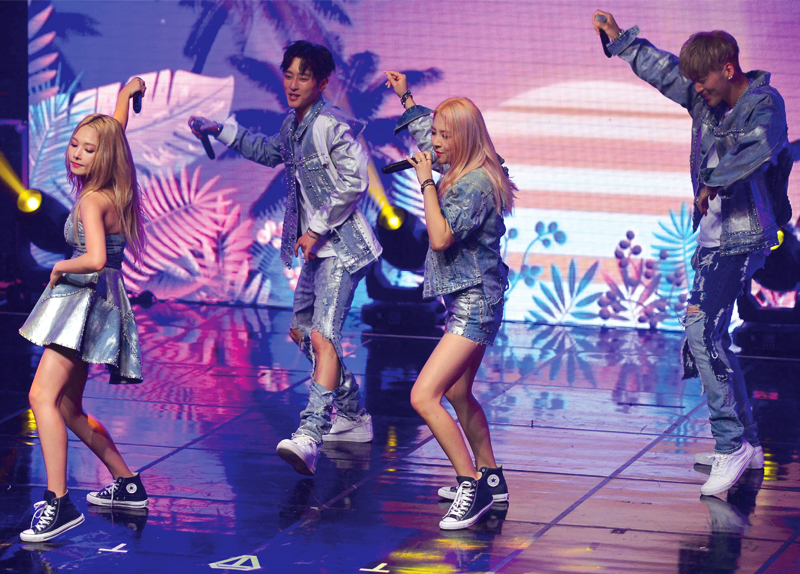 A new band named KARD made their official debut in Korea on July 19. At the Ilchi Art Hall in Seoul, the quartet performed their songs, including the title track from their debut album Hola Hola. Consisting of members BM, J.seph, Jeon So-min, and Jeon Ji-woo, KARD is the first co-ed (mix-gender) K-pop group in six years.
KARD was formed in 2016 by DSP Media. They released three singles before their official debut. Their first project single titled "Oh NaNa" was released in December of last year. It was followed by "Don't Recall" released in February. In April, they released their third and final single titled "Rumor" which topped iTunes' charts in 13 countries.
On July 24, the members of KARD were appointed as global ambassadors for Seoul City Hall's campaign 'I.SEOUL.U.' As ambassadors, they will be in various city promotion events to boost the image of Seoul. They will join other big stars like Rain, Lee Byung-hun, and the boyband Super Junior.
This coming September and October, KARD is scheduled to perform in five major cities in the United States as part of the second leg of their American concert tour. They will visit Minneapolis, Washington D.C., New York, Miami, and San Francisco.