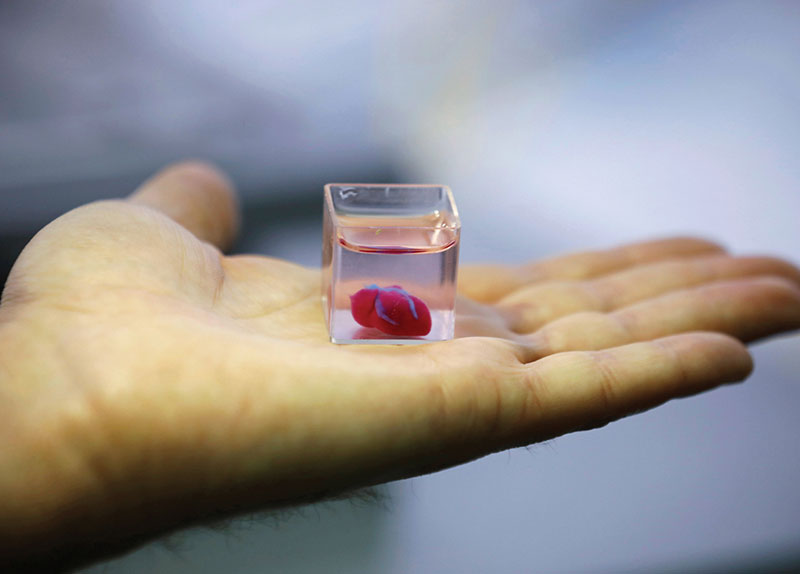 Scientists in Israel have successfully 3D-printed a heart using human cells. It is the first 3D-printed organ made from human tissue and the first to contain living cells and blood vessels.
The heart was printed with "bioink," or biological ink, which is made by separating the cells of human tissue, transforming them into heart muscle cells, and adding them to a gel. It took nearly four hours to print, as the bioink was added layer-by-layer in a design based on CT scans of a heart. The printed heart is small, about the size of a rabbit's heart or a cherry, but it has all of the parts needed to function properly.
Unfortunately, there is still a long way to go before a 3D-printed heart could be used in humans.
A bigger, more complex heart would take months to print using the current technology. In that time, the cells in the bioink would die before the heart was completed. Also, though these heart cells began to contract independently when supplied with oxygen and nutrients, the cells would need to beat together in order to pump blood effectively.
Heart disease is the world's leading cause of death, according to the World Health Organization. Each year, more than 1,500 Koreans die while waiting to be matched with an organ donor. If functional human organs can be printed in the future, this number could drop dramatically. Scientists hope that someday the best hospitals in the world will be equipped with organ printers.