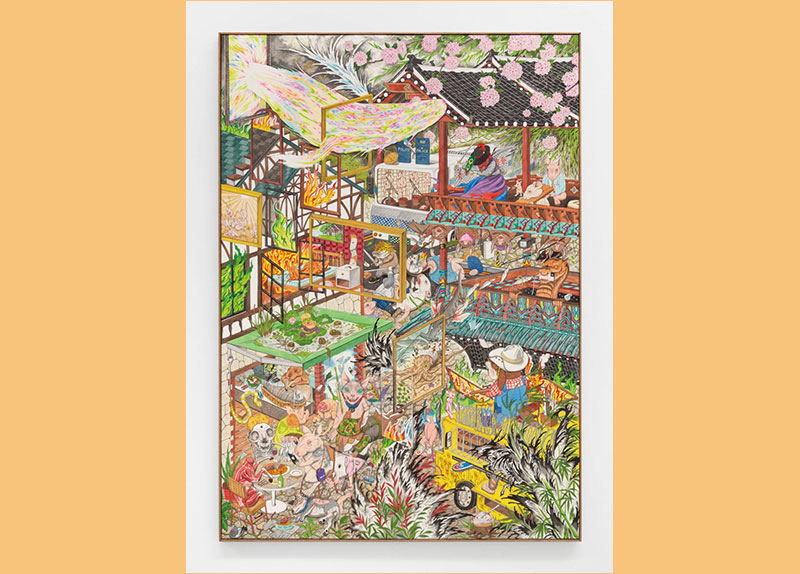 Korean artist Kim Hun-kyu has been heating up the art world with his works depicting cartoon animals printed on lush silk canvases. A closer look, however, reveals bizarre details. His colorful, anime-style characters appear almost to be demonic, sporting contorted expressions and bloodshot eyes while engaging in acts of violence, malice, and mischief.
Such a contrast between the expected and the truly bizarre is Kim's trademark. The artist has spent almost a decade mastering his craft. His aim is to act as a bridge between "the past and the contemporary," and his works showcase his dedication to his craft while showcasing a playful, modern spin.
During his studies at Seoul National University and later at the Royal College of Art in London, Kim found himself drawn to silk paintings from the Goryeo Dynasty, where Buddhism was prevalent in Korea and influenced the style of art. His art is reminiscent of the scrolls during that time, with art drawn in thin, delicate lines using rich pigments. Kim also takes inspiration from a variety of art styles, including the art of Dutch painter Hieronymus Bosch and the soft animation of Hayao Miyazaki.
His paintings rarely portray one or even a few subjects. Painted on colorful silk screens, his works typically depict armies of characters occupying their own squares while usually fighting and skirmishing. The art shows Kim's satirical view of the world at large. His new paintings showcased at Frieze Seoul were his most complex yet, with his characters existing on multiple planes at once in order to confuse the viewer's perspective. Kim, however, denies that he is channeling any sort of political stance through his paintings. Instead, he believes that his images are an exercise against logical thought and accepted beliefs. Rather fittingly, three of his paintings showcase the word "uncomfortable" in their titles.