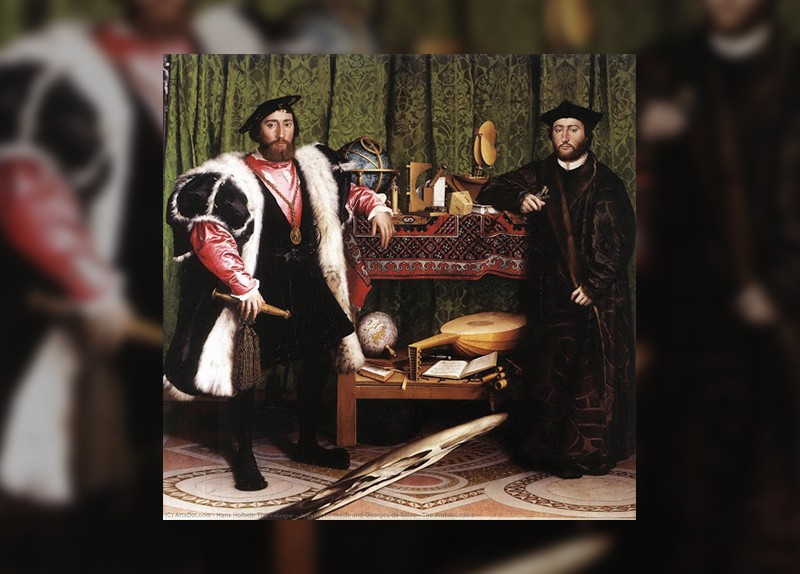 Born in the German city of Augsburg, Hans Holbein the Younger is unquestionably one of the finest artists who can represent the German Renaissance. It was an artistic movement that became predominant in Germany in the 15th and 16th centuries. Just like in many other countries across Europe, portraits prevailed in the period, as they could serve as a demonstration of one's piety, virtue, and even their inner soul. Italian Renaissance humanist writer Leon Battista Alberti even strongly advocated the power of a portrait in his treatise on painting in 1435 by describing it as the "divine force of painting."
An oil and tempera on oak painting titled The Ambassadors, completed in 1533 and measuring 207 cm by 209.5 cm, is one of the most celebrated portraits Holbein created during his artistic career. The painting depicts French diplomat Jean de Dinteville on the left side, along with his friend, Georges de Selve, standing on the right with several books and instruments, including a celestial globe. It was commissioned by de Dinteville to celebrate the visit to London of de Selve, a bishop of Lavaur. As these two failed to deal with the rift between Henry VIII and the Church of Rome as part of a diplomatic mission, many art experts argued that the main theme of the painting may be that no amount of learning has any power to stop what is inevitable.
The painting is currently displayed at the National Gallery, an art museum in London, England, that contains more than 2,300 paintings dating from the mid-13th century to the early 20th century.