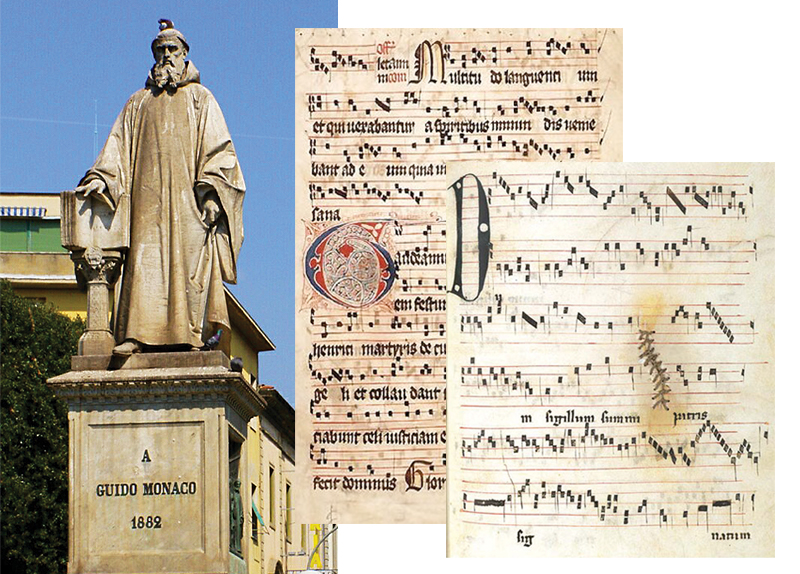 In the Medieval Period, the church played a significant role in governance and was a major cultural influence that unified people. Large churches called cathedrals were built, and monasticism rose. Monasteries were the main settlements for education and learning, including music composition.
At first, Gregorian chants were passed down orally from generation to generation. As the number of chants increased, singers needed support remembering the structure of the melodies. This led to the development of the neume, the basic element of musical notation prior to the invention of the five-line staff notation that is currently used. In modern editions of plainchant, neumatic notation is standard.
Following the monophonic Gregorian chants, polyphony began a musical revolution in the ninth century. Polyphony consists of two or more concurrent lines of independent melody. In polyphonic music, more than two vocal parts exist, as opposed to the monophony of Gregorian chants.
Hucbald was a monk who lived in present-day Belgium in the ninth century. His creation of organum marked the beginning of polyphony. Organum developed from the custom of adding a second voice to a Gregorian melody. Hucbald conceived the idea of musical notation that has transformed into today's notation. However, polyphony required a more exact notation system that would replace neumatic notation.
Guido of Arezzo, born in the 990s, was a Benedictine monk from Italy. He is regarded as the inventor of modern musical notation that took the place of neumatic notation. His treatise, the Micrologus, was the second most widely distributed text on music during the Medieval Period.