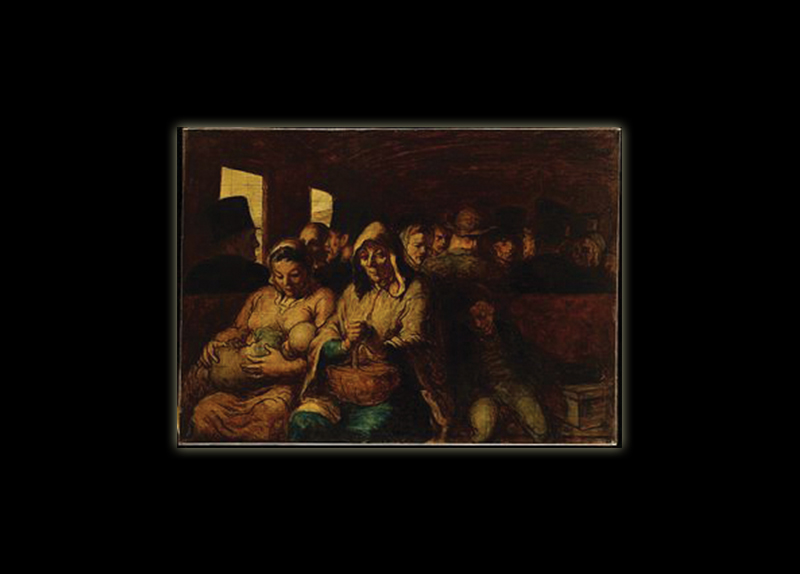 Born in Marseille, France, Honore Daumier was an uncultured, self-taught painter who was exceptionally renowned for his satirical drawings of political figures and the wealthy in 19th-century France. Daumier produced such drawings to point out the incompetence and corruption of French political and social institutions that only centered on the bourgeoisie. One day, Daumier portrayed King Louis Philippe I as "Gargantua," the gluttonous and vulgar giant that appeared in French writer Francois Rabelais' novel. Daumier's unflattering depiction of the king was included in the French satirical periodical titled La Caricature. Unfortunately, due to the depiction, Daumier was imprisoned for approximately six months during the king's reign in 1832.
During the course of his artistic career, Daumier also created a myriad of paintings that realistically recorded what he had observed from his everyday life. Created approximately between 1862 and 1864, the oil painting titled The Third-Class Carriage is one of Daumier's most famous paintings, which portrays the plight of lower-class French people in a realistic manner. The painting mainly depicts passengers of various ages traveling in a cramped third-class carriage with the use of dark colors. Among the passengers, some of them are seated facing the viewer. These passengers are showing sorrowful expressions on their faces. With this depiction, we can imagine how difficult their lives must have been at the time. In addition to portraying the plight of the poor, the painting also depicts how France had greatly benefited from the Industrial Revolution. Thanks to the invention of the railroad, people could travel anywhere. This was previously impossible at a time when people had to rely on their own two feet or ride animals to get to their destinations.
The Third-Class Carriage is currently being displayed at the Metropolitan Museum of Art in New York City.