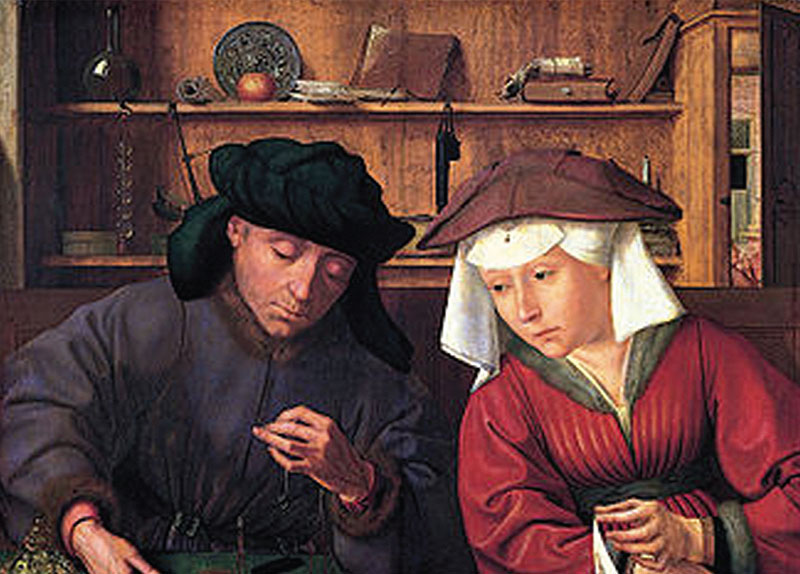 Quentin Massys (1466-1530) was a Belgian painter in the Flemish period and a founder of the Antwerp school of artists. He was active in Antwerp, creating numerous works that exhibited strong feelings and satirical tendencies. Massys abandoned his first career as a blacksmith to impress his wife, who found painting to be a more fascinating profession. Some claim that a sickness that made him too weak to work at the smithy turned him to art.
The roots of Massys' training are unknown. Nevertheless, his style took after the artistic features of Dirk Bouts, who brought to Leuven the influence of Early Netherlandish painters, such as Hans Memling, a German painter who moved to Flanders, and Rogier van der Weyden, whose remaining works consist mainly of religious triptychs, altarpieces, and diptych portraits.
Massys' best-known satirical works include The Ugly Duchess (1515), A Portrait of an Elderly Man (1513), and The Money Changer and His Wife (1514), all of which depict human feelings and society in general. Among the religious altarpieces and triptych panels he painted, the most famous piece is The Holy Kinship, or St. Anne Altarpiece, built for St. Peter's Church in Leuven.
Massys' works also embody realism expressed by grotesque figures. His works generally reflect sincerity in expression, detailed renderings, and quiet effects in light and shade. In addition, a great deal of attention is paid to ornaments in his paintings like most Flemish artists of the time.