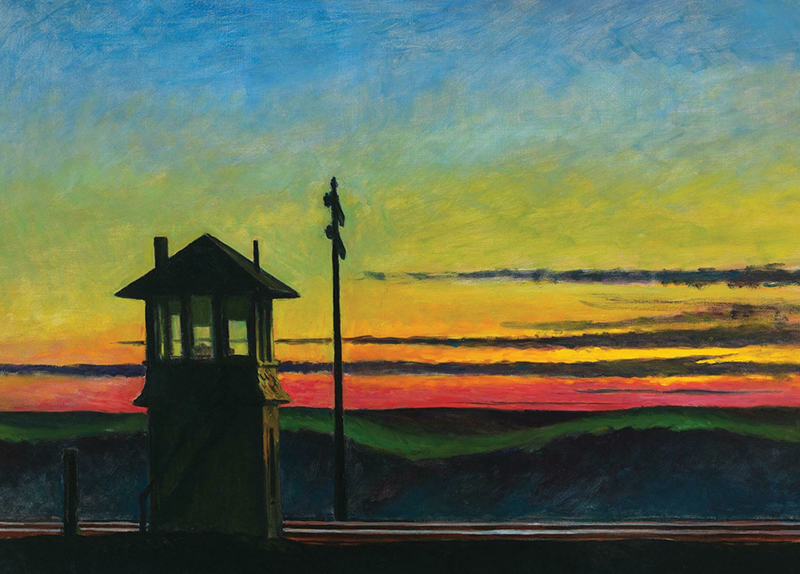 American painter Edward Hopper was one of the leading realist painters of the 20th century. When people are asked to think of Hopper's most distinguishing characteristic as an artist, many will answer that he often produced oil paintings that depicted everyday urban scenes. These often delivered a sense of isolation and melancholy to the viewers of his art. However, Hopper also gained significant fame as an artist with his landscape paintings. Just like his paintings of everyday modern life, his landscape paintings were also known to convey a sense of the aforementioned feelings.
Among the countless landscape paintings that Hopper created, Railroad Sunset deserves the most attention, as its theme revolves around trains ? one of his greatest interests during childhood. As we can guess from the title, the painting mainly captures a railroad track with a signal tower standing against a scorching sunset, which is colored in different shades of red. After his marriage, Hopper went on a transcontinental train trip, with his wife Josephine, where they traveled to Colorado and New Mexico. In 1929, the couple also made a journey to many different places, including Charleston, South Carolina, Massachusetts, and Maine. It was after this journey when Hopper created Railroad Sunset. Interestingly, the painting was not an exact record of a specific place that Hopper visited with his wife. Rather, he combined his memories with his imagination to produce the painting. This was his frequent practice. Just like how Hopper's paintings are well-known for delivering a sense of isolation and melancholy, Railroad Sunset creates a lonesome atmosphere with no depiction of a person in the signal tower or a train on the railroad track.
Railroad Sunset is currently being displayed at the Whitney Museum of American Art in New York City.