Argentina is in tough shape. With inflation at 48 percent, the currency falling, and the government cutting costs left and right, everyone is feeling the pinch. With operating costs going up and up, companies are doing everything they can to cut costs.
But one thing they're not doing, strangely, is cutting workers. Despite the gloomy economic outlook, the unemployment rate in Argentina, the third-largest economy in South America, has remained virtually unchanged. Usually in an economic downturn, the workers are the first to go. So what makes Argentina different? It's simply too expensive to fire people.
Argentina's labor laws are some of the toughest in the world. As such, employing people is more expensive at almost every level than elsewhere in Latin America, right down to the firing process. Upon termination, workers in Argentina are owed one month's pay for every year they worked, plus an additional one month's pay.
Whereas a normal company in another country might lay off employees to adapt to difficult economic conditions, doing so in Argentina could very well force a company into bankruptcy. So instead, companies have to find different and usually more difficult ways to hold out until things turn around. These include shortening working hours, suspending production, cutting shifts, and having workers take vacation time now so that they'll be more available in the future when things hopefully start to pick up.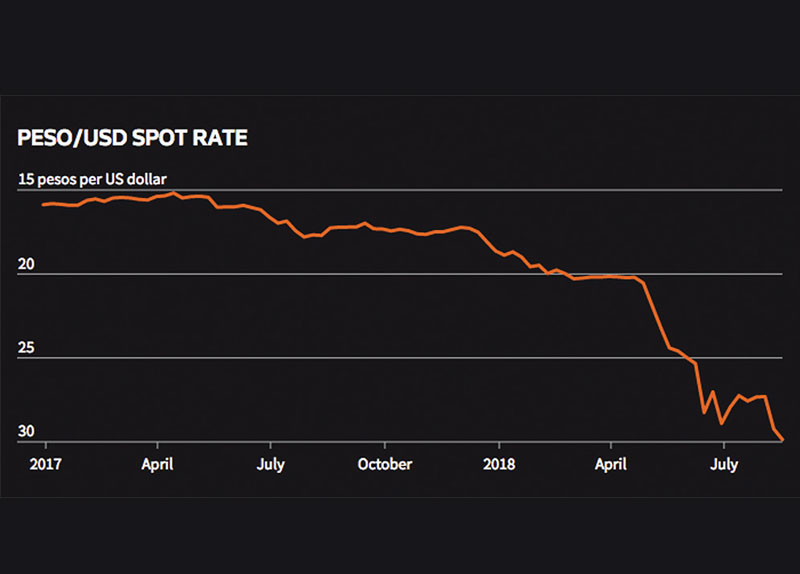 Argentina's economy started shrinking in the second quarter of last year, with output 4 percent lower than during the same period a year before. In the third quarter, the decrease was 3.5 percent. The IMF predicts a total decline of 2.6 percent for 2018 and an additional 1.9 percent for 2019. Problems are so bad that the country was forced to accept a $56 billion (W62.7 trillion) bailout loan.
But over the last year, Argentina lost only about 1 percent, or 120,000, of its workers. For comparison, the United States lost about 6 percent of its jobs in the recession of 2008-2009.
The labor laws seem to have contained unemployment. But whether they're good for the economy as a whole is under debate. Many economists argue that when companies have trouble firing people, they lose competitiveness. This could in fact exacerbate a recession, not help the country to weather it. Looking at the U.S. once again, we see both low barriers to firing and a low jobless rate. Argentina's president, Mauricio Macri, has made calls to relax labor laws. However, protests in late 2017 prevented his government from passing any such legislation.
Whether or not labor protection is the right strategy, things should be looking better for everyone soon. The country is expected to come out of its recession in the second quarter of this year.